---

---
Books

Works in Progress |Featured Book
Two Deserts by Julie Brickman
Hopewell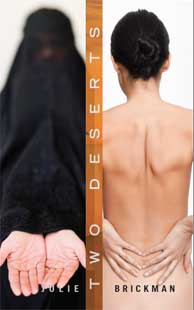 Deserts of sand and deserts of the heart, Middle Eastern deserts and American deserts: Two Deserts, a collection of stories, follows the circles of two unforgettable women across cultures and deserts. Adventure travel agent Emma Solace plunges into the impossible conflicts in an Arabian Gulf country. Her circles embrace her radically political lover Samir, 17 year-old Ayshah yearning for freedom, Muslim mother Maryam plotting to rescue her son from a jihadist movement. Writer Livia Skyer plummets into the heart desert when ALS, aka Lou Gehrig's disease strikes her beloved husband. Her circles include a hooker who is training her daughter for the life, an academic whose lust is depleting, a club of women whose husbands are dying, a priest who has fallen in love from the pulpit. A fierce and compassionate storyteller, Brickman's ability to articulate the deep and invisible currents of life is eloquent and remarkable.
PRAISE FOR TWO DESERTS:

While the geography of Julie Brickman's rich, powerful stories is far flung-southern California; Arabia; Dawson; Canada--their most amazing journey is into the depths of human passion. This is brilliant work--bold, true-hearted, and beautiful. Brickman believes in the reality of the body, but the body illumined by an unflinching intellect and indomitable spirit.
--Sena Jeter Naslund, New York Times bestselling author of Ahab's Wife and Abundance.
Julie Brickman's collection Two Deserts has its darknesses, but also the startling, timely cultural breadth and luminous grace scene for scene that she's known for.
--Philip F. Deaver, Flannery O'Connor award-winning author of Silent Retreats.
Brickman's storytelling takes many forms--for example, the monologue of a mother fearful that her son will become a martyr to jihad, the mythic charm of an Arabian folk tale; even a riveting story completely rendered as a list--all of them exhibiting her mastery of character and place. You will be transported, as I was.
--Susan Vreeland, New York Times best selling author of Girl in Hyacinth Blue.
Book Talks:
October 15, 2013, To Be Continued Bookstore, Metuchen, N.J.
Video: http://www.youtube.com/watch?v=XfS2rKmKjRo
Two Deserts Julie Brickman, Author
Saturday, November 2, 11:00 am - 1:00 pm, Sheridan Stationery, Books and Gallery, 206 Main Street, Sheridan, Wyoming 82801, Phone: 307-674-8088 or 888-266-5730
http://www.sheridanstationery.net
November 4, 2013 at 6:00 p.m., Laguna Beach Books, 1200 South Coast Highway, Laguna Beach, CA 92651, Phone: 949-494-4779. Mark your calendar.
Reviews:
Two Deserts by Julie Brickman: A Ploughshares Playlist
Excerpt:
After a detour into the Land of Internet GIFs, Iím back on the music train, bringing you tunes to accompany Julie Brickmanís new story collection, Two Deserts, released the first of this month from Hopewell Publications.
Brickmanís stories examine the breadth of loveólove between mother and son, husband and wife; between those ill and those well, those who lean extremist and those who donít. The collection acknowledges myriad aspects of Capital-L-Love: endurance, lust, dedication, and small, bright sparks of joy."
--Brenda Dixon
OCBookBlog Reviews "Two Deserts": Laguna Beach Independent Newspaper
Excerpt:
These stories felt especially rich, delving into contradictory portraits and reveling in lives that seek equilibrium wherever it may be found.
--Randy Kraft
"Contrasting Cultures in Alternating Tales" Two Deserts by Julie Brickman: Fresh Fiction
Excerpt:
Each type of desert has its own dangers for both men and women; quicksand in one, faculty meetings in another. Two Deserts will reward the thoughtful reader, saddening and gladdening by turns. A fierce and compassionate storyteller, Brickman's ability to articulate the deep and invisible currents of life is eloquent and remarkable.
--Clare O'Beara
The US Review of Books
Excerpt:
Written in beautifully descriptive prose, Two Deserts is a collection of fourteen short stories that reveal deep reflections on life made by various different characters. Reading through each story is a peaceful drift down a lazy river on a beautiful spring day. Finishing each one is a profound realization of a kindred human emotion.
--Wendy Strain
Julie Brickman's Two Deserts
Excerpt:
Julie Brickman's Two Deserts draws us into exotic worlds--both foreign and domestic--that slowly reveal to us the unacknowledged and unknown layers of life in and around us.
--Drema Sizemore Drudge
Available now from Hopewell, Amazon and Barnes & Noble
---
What birds can only whisper by Julie Brickman
Winnipeg, Manitoba: Turnstone Press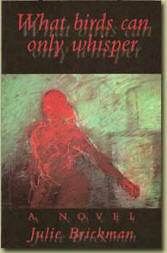 Kendra Quillan is the leader of Survivors, a feminist/dyke band in Toronto poised for success. Her Ice Maiden mystique and guitar savvy are central to the band's musical success and her own persona, but her world begins to shatter when she wakes up beside the first lover she's had in a decade and wants to kill him.
Although the rest of the band has their own problems--Baker plays AIDS roulette with pick-ups, while Lena and Angel are looking for the right way to add a baby to their loving partnership--Kendra has to find out why she loves and hates Axel, a gentle environmentalist, and why she can't remember their times in bed.
What birds can only whisper is an engrossing novel about one woman's journey from imminent career success back into her past to confront her childhood. With the help of her lover and her friends in the band, she pieces together the puzzle of her past, a process that can lead to freedom or the brink of madness.
A clear and healing voice in the controversy about recovered memory and childhood sexual abuse. "This book is dedicated to the silenced inside us all."
Cross Country Book Tour
To purchase from Amazon, click here.
"Bold is too heartless a word for Julie Brickman's stunning first novel: brave. Fresh is too tame for her sizzling style--try spectacular. This novel takes us to the post-trauma depths of the psyche; it's like being in a submarine whose searchlight makes us gasp at never-before-seen crevasses, life-forms, seams of fire--terrible and beautiful."
~ Sena Jeter Naslund, author of Ahab's Wife and Abundance: A Novel of Marie Antoinette
"Ever since Julie Brickman brought her piece, Penis Blues, to my workshop, I knew she was a writer to watch. A zippy new voice."
~ Susan Swan, author of The Biggest Modern Woman in the World and What Casanova Told Me